Blog
November 18, 2023
LVR Weekly Update - 18Nov23
Image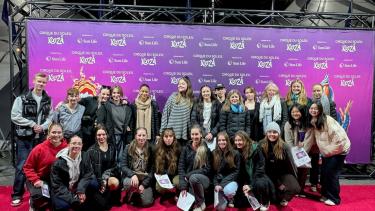 Good day out there, LVR Community.
A huge thank you to Ms. MacMillan & Ms. Wiltshire for organizing and leading an incredible & experience-packed trip to Vancouver this past week for LVR Dance & International students! 
The LVR Basketball teams would like to thank the Fisherman's Market for their continued support with their annual Chicken & Salmon Fundraiser and all who made purchases in support of our teams.  The fundraiser raised a total of $1961.39 which will be split amongst our Girls, Jr. Boys & Sr. Boys Basketball teams.  The funds will help alleviate costs for the upcoming season through tournament fees.  LVR is lucky to have the support of small businesses like Fisherman's Market in our community.  See the pic below.
Term 1 reports will be published this coming this week, likely on Friday, November 24 towards the end of the school day.  Please be sure that you can successfully log in to the MyEducationBC portal.  The student portal is more user-friendly than the parent portal and, for most students, uses the student's 7-digit pupil number as the Login ID and Lvr2023! as the password.  Please test this out and contact Julia at clerical.lvr2@sd8.bc.ca if you are having technical challenges.  In meeting our provincial mandate of five learning updates per year, we will be doing four MyEdBC reports and one set of family conferences in April for the 2023-24 school year.
Drivers & e-bikers, please be sure to slow down and be mindful of pedestrians crossing the school to the school bus and the city bus after school.  We are also looking into having crosswalks added in these locations.
To the Details...

Upcoming Dates

Green Team Meetings - Tuesdays at lunch in Room 207
Student Council Meetings - Wednesdays at lunch in Room 106
Green Team Mixed Paper Recycling - Fridays at lunch
LVR PAC Meeting - November 22 at 6:30 in Room 211 & Online  - Click here to join the meeting

Meeting ID: 246 677 813 710
Passcode: ijPszM

LVR Grad 2024 Parents Meeting - November 22 at 7:00 in the Multi-Purpose Room
SD8 Online Parent Engagement Session - Digital Trends - November 23 at 6:00 - Click here for details
Term 1 Reports Published to MyEducationBC Portals - Week of November 24 

LVR Athletics Update... 

November 19-23

Sr. Boys Soccer Provincials in Burnaby

November 29 - December 3

Sr. Girls Volleyball Provincials in Dawson Creek

Announcements...
Take care & have a great weekend, everyone.
Dan Rude - Principal, LVR & REACH
Image