Blog
September 5, 2023
Superintendent's Report - September 2023
Image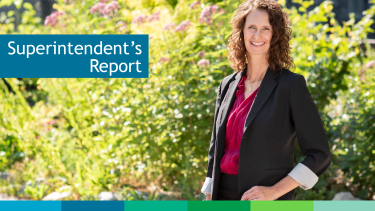 A warm welcome to September and to the 2023-2024 school year. I am pleased to welcome every one of our more than 4700 students and each family whose child or children have embarked on what may be a first or a next chapter of their educational journey within School District No. 8 (Kootenay Lake).
This is an incredibly exciting month for students who may be entering a classroom for the very first time, or entering a new grade, a new program or a new school. "New" is a key word for so much that happens throughout September across our district.  
As SD8 students start a new season of intellectual, social-emotional and career-based learning, they will do so as SD8 educators and staff implement an innovative and transformative strategic plan centered around a shared commitment to inspire and support each learner to thrive in a caring learning environment.
I encourage you to review each SD8's five strategic priorities in more detail. Each of these priorities were developed directly from what our school communities shared with us online and in person in spring 2023, and will guide our district for the next five years.
My focus throughout this year is to ensure that our strategic plan is at the heart of everything we do in SD8. Every member of our staff - from our bus drivers to our educators, from our administrative staff to our custodians - plays a vital role in inspiring and supporting each and every learner on their unique educational journey. This strategic approach reflects our unwavering dedication to personalized learning, where the diverse needs, talents, and aspirations of every student are not only recognized but celebrated.
By fostering a culture of care, collaboration, and inclusivity, we are poised to create an educational experience for every learner that imparts knowledge and instills a deep sense of belonging and self-discovery.
That journey began even before the first day of school, when on Sunday, September 3 our staff, students and families in SD8 participated in the 2023 Nelson Pride Parade. 
It is in this spirit of equity, inclusivity and diversity that we welcome the amazing people who define our purpose and focus: our students.
Trish