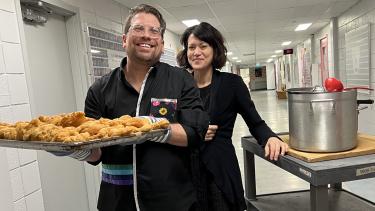 LVR Aboriginal Education Family Winter Fest
January 20th 2023
The LVR Aboriginal Education Department hosted their Winter Feast for families on Thursday January 20 at 5:00 pm in the multipurpose room at LVR. 
The event was well attended by LVR Aboriginal Education students and families including two elders from the community and the Aboriginal Advocate at Selkirk College. 
LVR Aboriginal Academic Support teachers, Jesse Halton and Liv Hilde, worked hard to prepare a feast of bison stew, vegetables stew and bannock. 
Over the past two years, due to restrictions, families were given food to take home in care packages. This year was the first year since 2019 where the school was able to host the gathering and welcome families in to enjoy a meal together.